CommAf are proud to be Polycom Certified Partners, and through this relaitionship we are able to supply, install and support a wide range of Voice and Video conferencing solutions. If you are interested please call us for a free demonstration.

CommAf's Video Conference demonstration centre in action...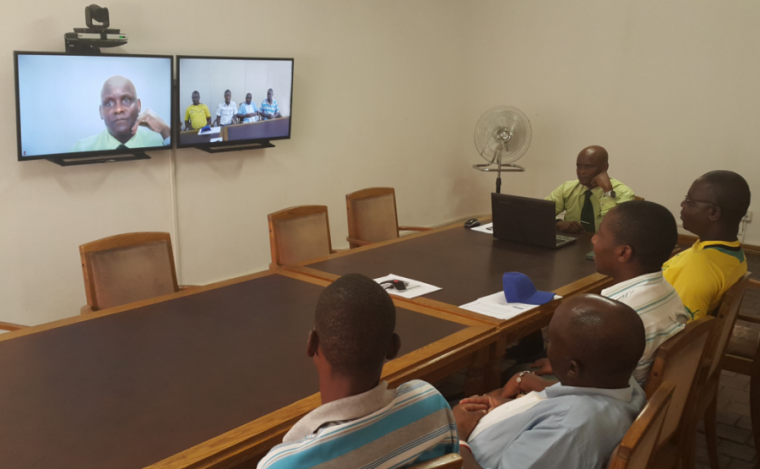 The ability for people to collaborate -to work together- is mission-critical for any organization. Project meetings, Sales meetings, Product development meetings... and beyond the enterprise; doctors meeting with patients, teachers interacting with students, government agencies collaborating on crisis response to deliver critical services to citizens.

The Polycom RealPresence Group Series sets a new standard for ease of use in video collaboration. The breakthrough user experience is easy for even first time users, with no need for training. Backed by years of customer research, Polycom's new user interface speeds up the adoption of video communications, and reduces support costs for IT administrators. Plus, breakthrough Polycom SmartPairing technology makes it simple to use your own Apple iPad, or Android tablet to start and manage video calls.

Today's increasingly competitive global workplace requires teams to be able to make decisions across distances and without barriers. To compete and become more agile in a fast-moving world, organizations need to create productive work environments that support socialization and collaboration as these interactions spark innovation, engagement and higher productivity.

Polycom RealPresence Group Series is the engine that drives enterprise-grade video, voice and collaboration experiences, accelerating decision-making and fostering innovation. Only Polycom delivers video collaboration experiences that bring users closer together and drive meaningful conversation for geographically dispersed teams. Next-generation collaboration tools ensure that everyone is involved in all aspects of the conversation, with interactive content on any device. Standards-based interoperability and deep integration with Skype for Business and Microsoft Lync ensures that the experience is a scalable and manageable part of the UC experience that users are already familiar with.